A Full-Service Real Estate COMPANY
Owner Ben Gaines founded United Properties of NC in 2019 with the goal of offering clients in Central NC the highest level of service with a comprehensive approach to the real estate industry. Brokers work with buyers looking for that perfect home and sellers listing properties on the open market. The firm also purchases properties directly in cases where a property owner wishes to avoid the inconveniences associated with a traditional sale.
United Properties of NC was named to honor Ben's father, who founded United Fire and Safety in 1980, and Ben prides himself on delivering the same excellent service to his community that his father's company has provided for decades.
In the firm's short tenure, it has received nothing but positive feedback and stellar reviews. Committed to maintaining the newest and best tools and technologies to provide excellence in service, brokers are always accountable and available with every resource at their fingertips.
United Properties of NC takes pride in being an asset to all of the communities we serve and are fortunate to have agents who are available to service most of Central NC.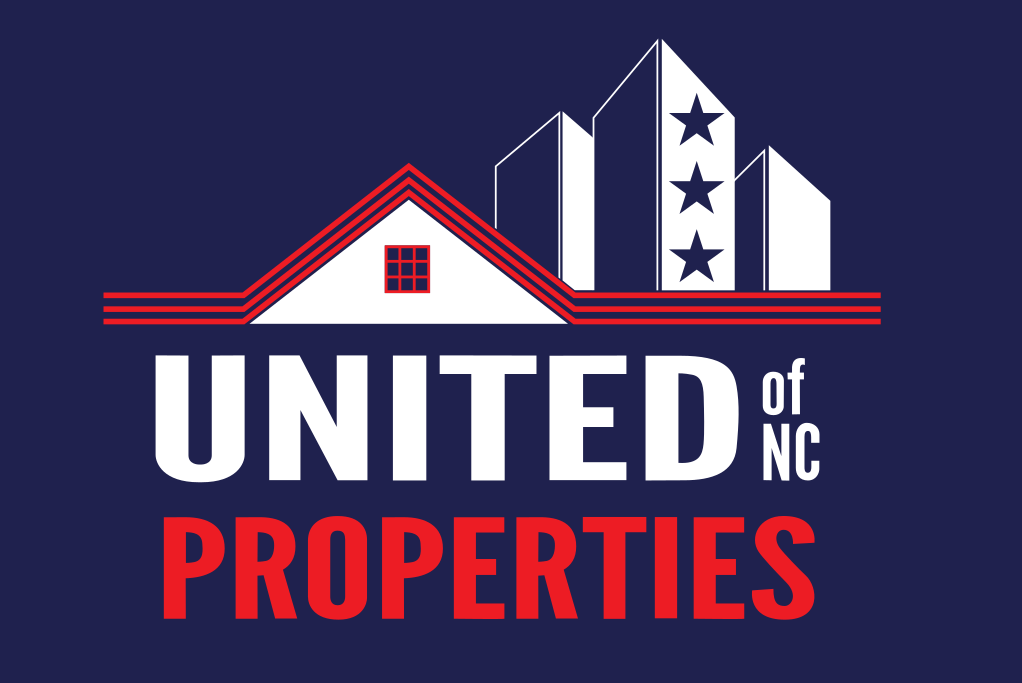 United Properties of NC takes pride in being an asset to all of the communities we serve, and are fortunate to have agents who are available to service most of Central NC.
Owner/Broker Ben Gaines has an in depth knowledge of the real estate industry from the ground up. He has extensive experience in real estate investing, including renovation as well as purchase and sale, and takes pride in maintaining an acute market awareness to better advise his clients.
In addition to his work at the firm, Ben also serves as a mentor and motivational speaker and encourages the development of new entrepreneurs.
He has also been fortunate enough to engage in another type of coaching, working with local youth through community sports programs as a baseball coach. Ben is a family man who often brings his teenage son and the family dog, Gibson, to the office. Gibson has become the firm's unofficial mascot.
Ben is constantly focused on learning and investing in himself and other brokers, and is committed to putting his knowledge, extensive network and all of the resources at his disposal to work for his clients.
Tiffany Lattero
Broker in Charge
Broker in Charge Tiffany Lattero grew up in Reidsville, NC before opening a restaurant in Gibsonville. During her time there, she served as President of the Gibsonville Merchants Association and was named a Gibsonville "Hall of Fame" member for her community service efforts.
After thirteen years of successful restaurant ownership, Tiffany decided to pursue another love and went on to excel in her real estate studies, finishing at the top of her class.
Tiffany has served as a broker since 2018 and particularly enjoys the challenge of matching a client with that perfect property. She likes to think of it as a treasure hunt, and is always available throughout the search with her ready knowledge of local communities, real estate laws and procedures, and enthusiasm.
When she's not working, Tiffany is an avid reader who enjoys travel and spending time with friends and family. You can often find Tiffany enjoying the outdoors with her dog.
Tonya Meeks Jordan
Realtor®
Durham native Tonya Meeks Jordan was raised in Siler City and has lived and worked throughout the Triangle and Triad areas before coming back to set down roots in Chatham County. She has been a successful small business owner with strong ties to the community for over 20 years through her Salon. Tonya has had a lifelong passion for real estate, renovating and remodeling several of her own homes and staging properties for friends and family over the years. She finally realized her dream of pursuing that passion professionally when she became a Realtor in 2019.
Because Tonya understands that buying a home is an investment in your future, she is invested in guiding her clients along their path to home ownership, working hard to personalize the experience to suit the unique needs of each individual. She devotes herself just as enthusiastically to selling homes, and has extensive experience with staging as well as contracts. She is committed to keeping up with current trends in the market and brings her staging talents to each property in an effort to maximize earning potential. As a listing agent, all of Tonya's homes have been under contract within 48 hours with the majority selling above asking price. Her focus on bringing her best to each client, whether buyer or seller, has consistently earned her five star reviews.
When she isn't working, Tonya enjoys time with her family and friends, including her dog Lacey, frequently traveling to the lakes and costal regions of NC. She has also donated a good amount of her free time over the years to volunteering at local schools, lending her talents and energy to the Living Literature program and fundraising efforts.
Chatham County native Lynn Farrar has strong ties to her family and community. She appreciates the many joys that local living has to offer and hopes to help others find that same sense of home and community.
Lynn decided to return to school and get her real estate license to do just that. She believes that the right home in a good community is a strong foundation for a happy life, and she very much wants to put her knowledge and enthusiasm to work helping clients find their happy place.
When she's not working, Lynn spends her down time with her family. They enjoy exploring their neighbourhood on evening walks before settling in to spend evenings together. Trips to the beach are also a frequent family activity as it gives Lynn a chance to get her toes in the sand at her happy place away from home.
A Chatham County native, Crystal was born and raised in the Siler City/Silk Hope area. Having lived here all her life, she has an extensive knowledge of the local community and the surrounding area.
Crystal served as an educator in Chatham and Lee County schools for 19 years before pursuing a career in real estate. Not only does this provide her with unique and extensive knowledge of local school districts and family resources, it has given her the opportunity to develop a wide network of connections to call upon when working to meet the needs of her clients.
Crystal's years as an educator required adaptability, and helped to develop listening and creative problem solving skills. She brings these strengths to her second career in her efforts to help her clients achieve their best outcome.
When not working, Crystal is active in a variety of ministries within her church. She's a proud mom to a rescue fur baby chiweenie named TG, and enjoys trying new recipes with family and friends.
A Randolph County native, Robin has spent the majority of her lifetime in the Liberty area. A graduate of UNC-Greensboro, Robin spent 10+ years working in the Randolph County School System before transitioning into the world of new construction and real estate. Robin received her real estate license in 2019. She prides herself in combining knowledge of the surrounding area with her love of helping others reach their goals.
Robin enjoys guiding clients through the process of buying and/or selling real estate. Her goal is to go above and beyond to make the entire process as smooth and stress-free as possible. She brings with her a firm knowledge of real estate and a willingness to roll up her sleeves and work in order to help her clients, whatever that looks like in each unique situation. 
Because of her deep-rooted ties to the area, Robin feels very strongly about giving back to the community. Each year, she selects a project to support by donating a portion of her real estate transactions. This means each client she helps in the buying and selling process, has a ripple effect that reaches far beyond the closing table. Last year, Robin was able to donate a much-needed piece of medical equipment called a Caring Cradle to the Cone Health Women's and Children's Center at Moses Cone Hospital. This piece of equipment will afford families the priceless gift of time. Currently, Robin is working towards sponsoring multiple veterans to experience the honor they deserve with a trip with Triad Honor Flight. 
Robin loves spending time with her family and as the mom to three, aged 12, 18 and 23, she jokes that there is never a dull moment. She also has a host of four-legged family members that keep her busy–dogs, cats, goats, cows and one horse. She enjoys spending as much time outside as possible, riding the Harley with her husband, and traveling with her family.